Open, view, and mark up all 3D and 2D CAD data from within one, easy to use file? Sure. You'd expect nothing less from the market leader in digital design communications. But Spinfire Ultimate goes further, accurately preserving the part data as it is published in the software's .3D format. So, even without the original CAD data, you can compute volume and surface area, measure thickness and angles, and more. And any one can open and view all data and all mak-ups using Actify's free, downloadable Spinfire Reader.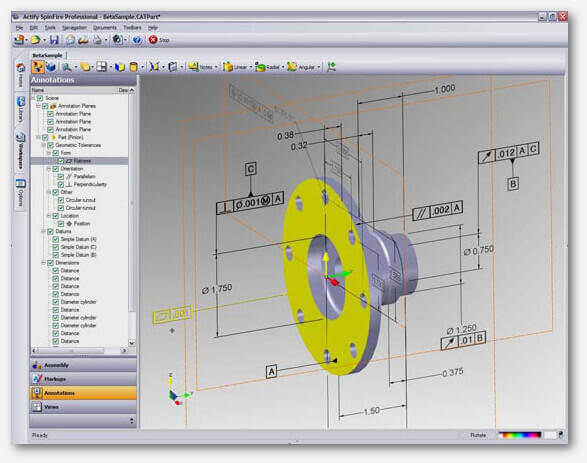 There are 4 complementary products:
SpinFire™ Reader
SpinFire Professional™
Spinfire for Microsoft Office™
Spinfire CAD2CAD™
SpinFire Reader enables viewing of CAD models in Actify's compressed and secure .3D format – free of charge and without a CAD system. Reader is perfect for those users who mainly need to view and share design data previously import using Spinfire Professional.
SpinFire Ultimate can import more than 30 different file formats including PDF. SpinFire applications can load multiple files into a single, secure .3D file. A typical CAD file is reduced by 90 to 95% of the original size enabling for easier transfer. The .3D format is what all SpinFire applications read and use. This capability acts as a project capsule with individual internal workspaces for each file loaded. Or users can import multiple models into a single workspace as a combined assembly. If users have a model developed by one CAD system and receive a second file from a different CAD system, then SpinFire can load those two models into a single working assembly enabling fast review and communication. The .3D file encapsulates multiple models, drawings, PDF files or other supported documents allowing the user to work with each through internal worksheets (workspaces). The customer does not need to be concerned with tracking or shipping multiple files since they are combined within the single file.
Spinfire for Microsoft Office enables users to embed static and interactive 3D and 2D design data directly into Word, Excel, PowerPoint documents and Outlook emails. Now knowledge workers throughout the enterprise and supply chain can easily obtain and use data for their individual purposes.
SpinFire CAD2CAD Translator enables multi-CAD data exchange support. With CAD2CAD, you can work more efficiently by smoothly and accurately converting multiple 3D formats. Your team will benefit from the richness of the data that is translated, including visualization (tessellations), product structure, precise B-rep, Product Manufacturing Information (PMI) as well as attributes and metadata. CAD2CAD enables you to share and integrate your product data into a varietyof workflows by accurately converting it into common CAD formats.