The DEXcenter enterprise solution is a web based application automating and managing the exchange of CAD data in a multi-CAD environment between customers, suppliers and partners. Highly configurable to fit with any PLM environment, it automates the running of CAD systems, batch processing and translation with the secure transmission of data to the recipients.
---
DEXcenter offers OEMs and suppliers a secure, SOA-compliant, vendor-neutral platform for automating CAD/CAM/CAE/PLM interoperability workflows, including:
Supplier-OEM collaboration
Legacy data conversion
Model usability and validation
Long-term data retention and archival
DEXcenter consists of a Global Collaboration Portal providing web access and a Process Automation Engine that automates CAD and other processing workflows. The Global Collaboration Portal can be used with the Process Automation Engine as a completely stand-alone server solution providing interactive "Push Button" data translation and exchange. Alternatively the Process Automation Engine can be integrated with existing PLM or other business applications to provide robust batch processing. Modular components can be included to support direct integrations for PLM systems, archival systems, third-party translators, intellectual property security and model-based validation.

The DEXcenter web interface provides easy accessibility to all users with standard web browsers. The user interface is designed to provide very easy use for occasional and casual users yet provide advanced functionality for expert users who need greater control and flexibility.
Protecting valuable product data is a critical business function. Non-Disclosure Agreements (NDA) or Proprietary Information Agreements (PIA) between yourself and partners are frequently used to help ensure critical business data is not disclosed inappropriately. But often these agreements are managed differently throughout an organization or allowed to lapse. Both situations expose your business to losses.
Read More
DEXcenter facilitates compliance with International Traffic in Arms Regulations (ITAR) which restricts the dissemination of specified high technology or classified military information. DEXcenter prevents dissemination without proper classification and notification and provides convenient reports for auditing compliance.
Read More
DEXcenter can automatically generate 2D and 3D Technical Data Packages (TDP) in both neutral and native formats for exchange with collaboration partners. 3D Technical Data Packages including PMI can be automatically validated. DEXcenter can be used as a standalone web application or as a complimentary tool with PLM.
Read More
DEXcenter provides a robust CAD processing environment that can be utilized with the Global Collaboration Portal as a complete standalone solution or the Process Automation Engine can be integrated with PLM or other business applications to provide translation and/or secure managed file transfer. The result for customers is an automated solution that reduces more than 80% of wasted labor and resource costs associated with data exchange, delivering critical data to partners faster.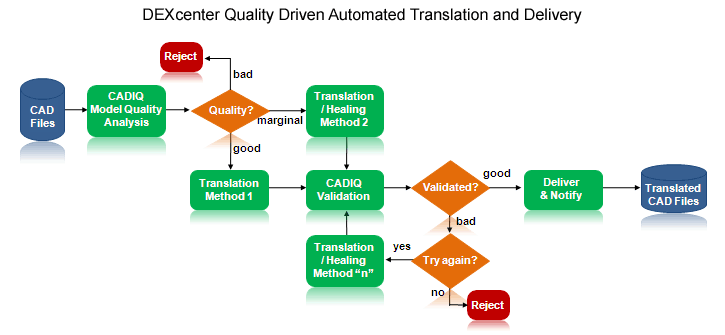 Read More
Corporate product data is your most valuable asset yet frequently it is put at risk via unsecure email and ftp exchanges. DEXcenter provides a secure, web environment for managed exchange of sensitive proprietary data. Data exchanged through DEXcenter is encrypted while in transit across the internet to prevent interception by others. Additionally records of every exchange are maintained to validate what each partner was sent, when it was sent, and when they received it. Since DEXcenter is a web solution, it is extremely easy to learn and use.
Read More