On WEDNESDAY, May 30, 2018 11:00 - 11:45AM Eastern Time (16:00 Central European Time), ITI & CAD Interop invite you to learn how orders of magnitude in file size reduction and simplification can be achieved ahead of integration into 3D plant and process design systems. This webinar will demonstrate how CADfix automates the simplification of 3D CAD models for large equipment assemblies.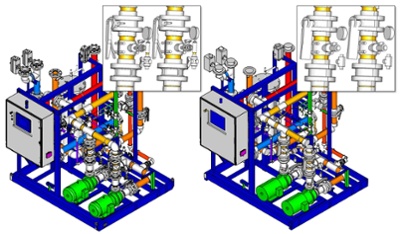 Original 14MB model (left) is reduced to 3MB (right) with an 86% face count reduction
Users of Autodesk, Aveva, Bentley, CADISON and Intergraph process engineering technology will learn how to save days of non-productive geometry handling, increase efficiency, decrease time-to-market and get to commissioning faster by employing automated CAD model simplification processes.
In this 45 minute webinar you will learn how to:
Quickly reduce the complexity and details of large equipment installation models
Dramatically reduce file sizes ahead of import into your plant layout system
Improve interoperability between MCAD software and your plant and process engineering systems
Discover how simplification can help you reduce file size and complexity