Paris, Friday, November 17, 2023: In its constant quest for innovation, CAD Exchanger introduces version 3.23.0, a major update enriching its portfolio with new features and improvements. This version brings significant changes that will transform the user experience. Here are the highlights of CAD Exchanger 3.23.0:
NX 2306, Autodesk Inventor 2023 and 2024 Import: Version 3.23.0 extends its compatibility with the latest versions of these software, offering greater flexibility and better integration.
Redesigned BIM Model Structure: A thorough revision of the BIM structure for improved consistency and efficiency in working with architectural models.
Comprehensive Revision of SDK Documentation: A complete update of the documentation, making information access more intuitive and learning smoother.
Support for New Versions of Autodesk Inventor and Siemens NX
This update marks a significant progress in file format support, thereby enhancing interoperability and ease of use.
Integration of Autodesk Inventor 2023 and 2024 Versions: An extension of support for these recent versions, ensuring increased interoperability.
Support for NX 2306: Integration of this latest version of Siemens NX strengthens efficiency in file conversion and exchange.
Improvements to the BIM Model Structure
Version 3.23.0 brings significant advances in BIM model management, improving precision and clarity for users.
Specific BIM Data Model: Based on user feedback, this improved model facilitates the creation and manipulation of valid models.
New 'Name' and 'PropertyLibrary' Fields: These additions allow access to more metadata, enriching the BIM experience.
Extended API
Version 3.23.0 of CAD Exchanger introduces major API improvements, in response to specific customer requests, for a richer and more precise user experience.
ModelData_OrderedWireIterator: This new class allows for more precise iteration over edges.
Transformation Matrix Method: An innovative way for users to define how to open the model, simplifying and speeding up the process.
Improved CDXWEB File Structure: Faster loading of multi-LOD files in the browser, thus enhancing work efficiency.
Updates to Unity and UNIGINE
The integration with Unity and UNIGINE in this version of CAD Exchanger has been significantly enhanced, offering users increased flexibility and new features. The integration with Unity now provides full texture support in the form of file structures. For better compatibility, all images are saved as PNG files. However, it is advisable to check the texture support for each format before exporting.
Full Texture Support in Unity: More efficient texture management in file structures.
Support for the Latest Version of UNIGINE, 2.17: This update enriches the user experience with many useful features. It now allows the use of multiple importers per extension, giving users the choice between the standard UNIGINE importer and that of CAD Exchanger, by simply specifying the supplier ID and desired extension. This flexibility eliminates previous limitations and enables the import of all supported formats.
Revised Documentation
The SDK documentation has been completely revised for better accessibility and understanding, facilitating learning and application of modules.
Consistent Structure and New Articles: Integration with Open CASCADE and other modules is now more transparent and comprehensible.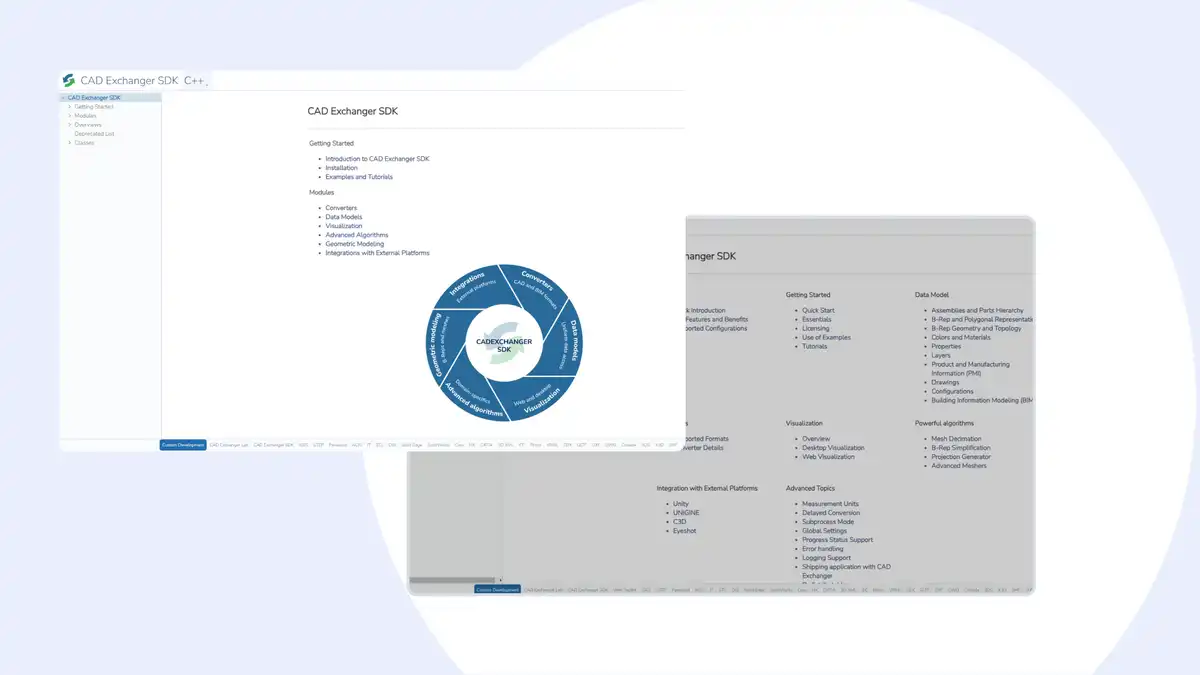 'CAD Exchanger MTK' Manufacturing Toolkit
The CAD Exchanger Manufacturing Toolkit (MTK) brings significant improvements in cost estimation, design for manufacturability, and sheet metal operations.
DFMA Improvements and Unfolding Algorithm: Adjustments for increased precision and speed in CNC engineering.
Volume Calculation for Removal: This new feature allows for more precise estimation during the manufacturing of a particular feature.
File Format Enhancements
Version 3.23.0 of CAD Exchanger continues to optimize user experience by improving support for file formats.
BIM File Format Updates: Significant improvements for better management and export of IFC files.
Enhanced Support for MCAD Formats: Improvements in key formats such as ACIS, Collada, FBX, and others, for better integration and flexibility.
To view the complete list of 3.23.0 updates, please consult the CHANGES.txt file.
CAD Exchanger is distinguished by its robust features for CAD conversion, visualization, and analysis. The 3.23.0 update is now available, offering users notable improvements for more efficient and reliable CAD data interoperability. Users can download the update from the official CAD Exchanger website.