DEXcenter can automatically generate 2D and 3D Technical Data Packages (TDP) in both neutral and native formats for exchange with collaboration partners. 3D Technical Data Packages including PMI can be automatically validated. DEXcenter can be used as a standalone web application or as a complimentary tool with PLM.
An Overview of TDP: Benefits, Challenges, and Relevance
Technical Data Packages (TDP) are a foundational element in fields like manufacturing, engineering, and design. Essentially, a TDP is a comprehensive set of documents, drawings, and data that define a product's design, production methods, quality checks, and more. While TDPs offer significant advantages such as standardization and quality control, they also present challenges like data integrity and version management.
Benefits of TDP:

Standardization: Ensures uniformity across the project.
Efficiency: Streamlines the production process.
Quality Control: Facilitates accurate quality checks.
Collaboration: Enhances data sharing and teamwork.
Compliance: Aids in meeting industry standards.

Challenges of TDP:

Data Integrity: Risk of data loss or corruption.
Version Control: Complexity in managing versions.
Cost: Initial and maintenance expenses.
Technical Expertise: Need for specialized skills.
Interoperability: Issues in data exchange between different systems.
TDPs provide a standardized, efficient way to control quality and facilitate collaboration, but also require careful management to mitigate challenges like data integrity and version control. CAD Interop's range of solutions like data visualization, conversion, and validation are perfectly aligned to help you navigate the complexities of TDPs effectively.
How DEXcenter Simplifies Your Technical Data Exchange Needs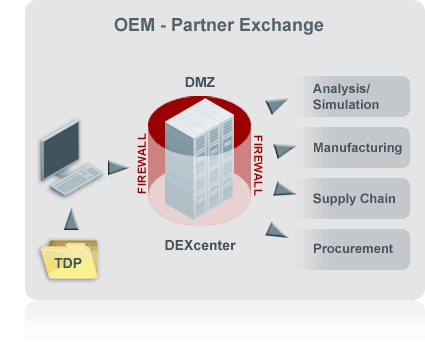 DEXcenter not only generates 2D and 3D Technical Data Packages (TDP) in various formats, but also ensures these packages meet quality standards. Whether used as a solitary web application or as an auxiliary tool with PLM, DEXcenter covers all the bases.
When we discuss DEXcenter's prowess in Technical Data Packaging, specific functionalities come into play:
Automated TDP Creation: Generation and delivery of 2D and 3D Technical Data Packages.
Comprehensive Translation: Utilizes CAD system standard translators and direct translators.

Native to Neutral: Native CAD to IGES, STEP, DXF.
Neutral to Native: IGES, STEP, DXF to Native CAD.
Native to Native: Converting Native CAD to another Native CAD.
Feature Based: Supports 3D BREP and Feature Based translation.

Validation: Automatic cross-checking to ensure translated models are faithful to the originals.
Container Files: Automatic packaging into ZIP or GZIP files.
Secure Delivery: Packages are sent securely to collaboration partners.
Notifications: Automated alerts to collaboration partners.
Receipt Confirmation: Ensures partners have received the packages.
SSL Encryption: Employs https and sftp for secure transactions.
Detailed Reports: Keeps a log of all actions and transactions.
Audit Trails: Provides usage and auditing reports.
ITAR Compliant: Meets International Traffic in Arms Regulations.
IP Protection: Safeguards Intellectual Property.
3D Model Support: Aligns with 3D Model Based Design and Model Based Enterprise initiatives.
DEXcenter offers a comprehensive suite of features designed to support Technical Data Packaging. With automated generation, validation, and secure delivery mechanisms, it's an indispensable tool for any enterprise focused on efficient data exchange. The expertise of CAD Interop ensures that you are equipped with top-notch solutions, perfectly aligned to meet your data exchange needs.