The world of CAD is constantly evolving, and with it, the imperative need for interoperability. Using the neutral STEP format is fundamental to address this challenge. It ensures CAD conversion without loss of information or integrity, thus ensuring optimal collaboration between the various stakeholders.
Mark your calendars! On October 17, 2023, from 10:00 AM to 5:00 PM, the "AP242 DAY", sponsored by Airbus, will be held in Toulouse. This is an opportunity for us to zoom in on interoperability solutions compatible with the STEP AP242 standard.
"AP242 DAY": An event not to be missed
Sponsored by Airbus and taking place in Toulouse on October 17, 2023, "AP242 DAY" is the perfect opportunity for industrialists to gather and discuss this topic. They will share successes, needs, and use cases. Suppliers will detail how they utilize the features of the STEP format. You will also attend presentations on various AP242 projects, such as Interoperability Forums and benchmarks. And good news, entry is free!
Date and Time: 10/17/2023 from 10:00 AM to 5:00 PM
Location: Toulouse
Presentations related to AP242
Free participation
What is the STEP AP424 Ed4 standard?
According to AFNET, the ISO STEP AP242 Ed4 standard is a major evolution for electrical design. It also incorporates specific improvements in various areas:
Product Data Management
3D model-based design with PMI
Mechanical, Composite, and Electrical harness design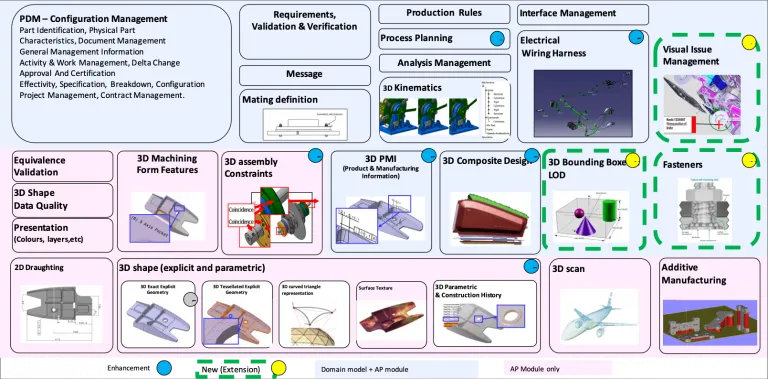 It aligns perfectly with the ISO 10303 STEP modular application protocols, laying the foundations for interoperability in aerospace, automotive, and other transport industries.
CAD interoperability solutions supporting the STEP AP 242 format
CAD Interop, an expert in interoperability, offers a varied range of solutions supporting the STEP AP242 format. These tools ensure a smooth and seamless transition between different CAD systems:
CAD Interop positions itself as the partner of choice to assist companies in selecting the best CAD interoperability solutions, relying on the STEP format. Our unique expertise in the CAD exchange domain ensures flawless collaboration between the different stakeholders in the design process.