Digital transformation is shaping the future of many sectors, including acoustic analysis. In this light, HEAD acoustics Inc, a leader in sound analysis, turned to CAD Exchanger to overcome challenges related to CAD visualization and data exchange.
Introduction to HEAD acoustics Inc and ArtemiS SUITE
Based in Germany, HEAD acoustics Inc. stands out internationally for its expertise in creating sophisticated software solutions aimed at analyzing, measuring, and improving sound and speech quality. The epitome of this expertise is embodied by ArtemiS SUITE, an all-encompassing software designed by HEAD acoustics to measure and analyze sound and vibrations. This software suite merges various modules within a user-friendly software environment, catering to a multitude of tasks such as sound source localization, data acquisition, noise simulation, and much more.
ArtemiS SUITE is broken down into eight main products:
Head Acoustics Analysis Software: Provides comprehensive solutions for sound and vibration analysis, as well as communication and audio quality.
Data Acquisition Software: Offers flexible systems for mobile applications and laboratory operations.
NVH Simulation (Noise, Vibration, Harshness): Focuses on sound reproduction for virtual testing, allowing for auralization of transfer path analyses based on test bench data.
Binaural Recording and Artificial Head Software: Enables users to record sounds by accurately reproducing all relevant acoustic components.
Noise Simulation and Playback: Makes sounds audible, from precise reproduction of binaural recordings to recreation of sound fields and ambient noise.
SQala Jury Test Software: Supports the playback of binaural recordings and allows a realistic evaluation of product or ambient noise.
Sound Source Localization: Aids in identifying the causes behind any disturbing sound component and its effective rectification.
Shape Comparison Tool: Represents acoustic phenomena in 3D models.
This product range serves a diversified clientele, encompassing global electrical appliance and machinery manufacturers, transportation companies, automotive industry leaders, appliance makers, telecommunications providers, as well as wind turbine manufacturers seeking to reduce noise pollution. With ArtemiS SUITE, HEAD acoustics offers a solution for simulating the acoustic behavior of products. Users can thus load the CAD models of their products, carry out structural simulations and analyses, all while benefiting from integrated visualization displaying the CAD data alongside measurements and simulation results. The Shape Comparison Tool, in particular, represents sound vibrations in 3D models.
Data Exchange Issues and Solutions provided by CAD Exchanger
Prior to the integration of CAD Exchanger, HEAD acoustics Inc. faced substantial challenges in data exchange. The significance of precise data exchange in acoustics is crucial to ensure accurate sound analyses.
Technical Challenges: Data exchange required significant investment, particularly due to the technical specificity of this field.
Resource Optimization: It made sense to delegate this task to a competent provider, thus allowing the company to focus on improving functionalities related to its acoustic expertise.
CAD Exchanger improved the import and export of files in common data formats within the software platform of HEAD acoustics Inc., thereby optimizing sound and vibration analyses.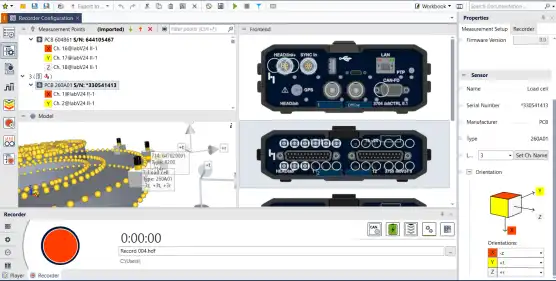 Integration of CAD Exchanger in the environment of HEAD acoustics Inc
The integration of CAD Exchanger's import and export libraries into the acoustic analysis software ArtemiS SUITE by HEAD acoustics was a significant advancement. This integration facilitated the import of CAD files and the visualization of 3D acoustic models.
Unified API: Provides a single API to load all supported 3D and CAD formats, thus reducing development and maintenance efforts.
Multiple Supported Formats: Supports numerous file formats, enabling quick conversion and optimization of 3D models.
Fast Processing: An efficient processing algorithm that significantly speeds up the loading of large files.
Easy Implementation: The CAD Exchanger library suite allows for rapid and robust integration in various programming languages.
This integration not only optimized the efficiency of CAD import and export, but also enhanced the visualization and analysis of CAD data, thereby enriching the user experience and the accuracy of acoustic analyses.
In summary, the testimony of HEAD acoustics Inc highlights the efficacy of CAD Exchanger in resolving CAD import and export issues. The ease of integration, support for multiple file formats, and notable improvement in the visualization and analysis of 3D models are undeniable assets that have been highlighted. The solutions proposed by CAD Exchanger align perfectly with the expressed needs, attesting to the adequacy between the challenges faced and the responses provided.