In an age where digital innovation spearheads industrial advancement, the collaboration between FORAN and CAD Exchanger emerges as a beacon of transformation. Bridging the gap between legacy systems and the digital future, this partnership has catapulted shipbuilding into the Industry 4.0 era with finesse and precision.
For over a decade, CAD Exchanger has been a cornerstone in the evolution of FORAN, the esteemed shipbuilding software, by infusing it with advanced 3D data exchange capabilities.
FORAN and the Digital Renaissance of Shipbuilding in the Industry 4.0 Era
Today's competitive industrial arena necessitates adherence to Industry 4.0, which champions digital interconnectivity and transparency. A comprehensive and accurate digital twin is crucial for seamless integration into every phase of a product's lifecycle. The concept of Shipyard 4.0 echoes this ethos, demanding meticulous documentation of maritime components for use in subsequent processes, encompassing everything from inception and fabrication to financial planning and sustainable decommissioning.
SENER Marine's Journey and Transformation
The Voyage of SENER Marine: A Chronicle of Industrial Prowess
Embarking on its digital transformation journey early, SENER Marine, a bastion of industrial innovation, pioneered the multifaceted shipbuilding software FORAN, aiming to become a comprehensive data repository. This year marks a significant milestone with Siemens integrating FORAN to enhance its ship-lifecycle management offerings. CAD Exchanger has been pivotal to this transformation since 2012, continually elevating FORAN with its state-of-the-art 3D data interchange technology. Delve into the chronicles of this collaboration that began with a single CAD format and evolved into the refinement of CAD data processing techniques.
Global Engineering Feats: SENER Marine's Signature Projects
SENER, a titan in the Spanish engineering sector, with its pioneering endeavors in aerospace, infrastructure, energy, and marine, has been setting industry benchmarks since 1956. With a workforce of 2,500 experts, SENER is disseminating top-tier engineering solutions globally. The firm's projects are as diverse as designing California's high-speed railway, crafting an offshore LNG terminal in Argentina, tunneling between the Sinai Peninsula and Egypt, and contributing technological insights to the European Space Agency's Jupiter Icy Moons Explorer (JUICE) mission. Embodying the mission "Soluciones de ingeniería al servicio de los clientes y la sociedad," SENER pledges to deliver cutting-edge engineering solutions for the betterment of clients and society alike.
SENER Marine's Dedication to Naval Architecture and Marine Consultancy
Maintaining its founding spirit, SENER Marine specializes in delivering comprehensive engineering and consultancy services to an international clientele, encompassing shipyards, design firms, and vessel proprietors. This subsidiary of SENER has an extensive portfolio, including the engineering of a 1,200-passenger ferry for South Korea, technical supervision of a stern trawler construction for China, and consultancy for maritime projects worldwide. SENER Marine's expertise extends to a wide array of maritime and offshore structures, from conceptual designs to construction oversight, showcasing its dedication to innovation in the marine industry.
In-depth Look at FORAN Shipbuilding CAD System
Tracing FORAN's Trajectory: From 1965 to a Global CAD Mainstay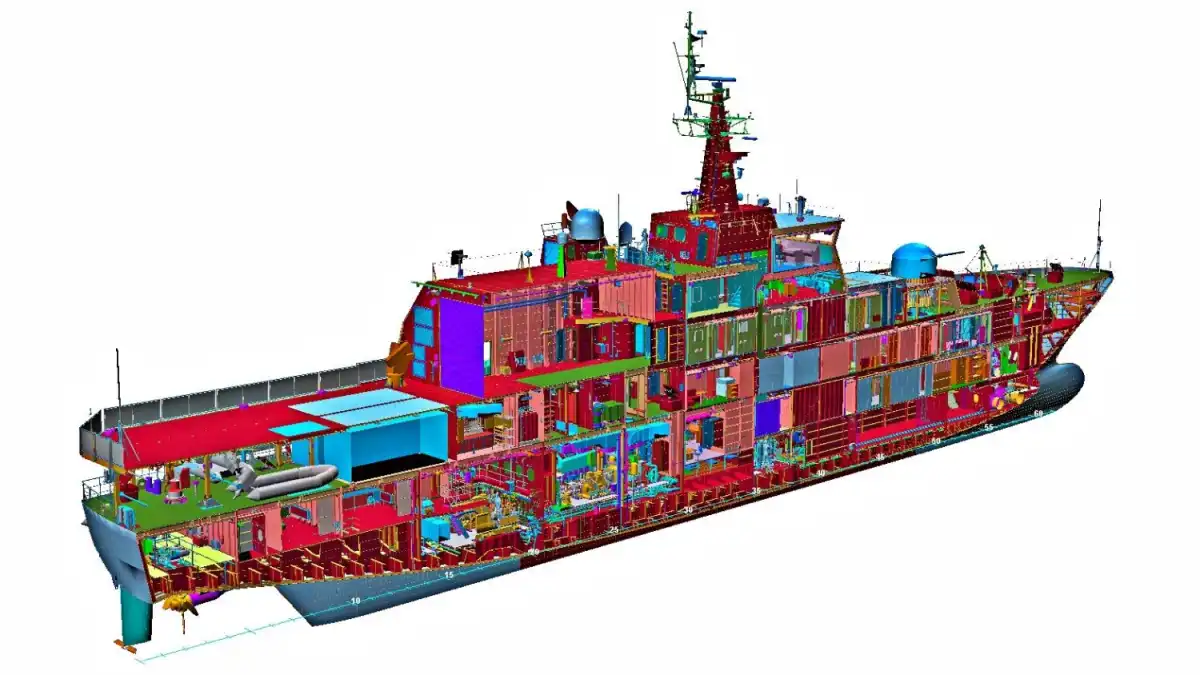 Launched in 1965 as an in-house CAD/CAM/CAE solution, FORAN was initially created to streamline engineering computations. With the passage of time and technological advancements, SENER's engineers recognized the imperative to digitize the entire scope of vessel design and production. This vision prompted the continuous enhancement of FORAN's capabilities.
Today, FORAN is embraced by over 150 shipyard and design offices in 40 nations, assisting in the conception and construction of a multitude of maritime vessels such as carriers, submarines, ferries, fishing ships, icebreakers, and trawlers. The software suite efficiently manages all facets of a vessel's lifecycle, commencing from conceptual design to detailed arrangements of hull, machinery, and outfitting, as well as from electrical schematics to production drafts. It facilitates seamless integration with PLM systems and offers immersive virtual reality experiences up to the final handover to the shipowner.
Exploring FORAN's Multistage Functionalities and Diverse User Demographic
Furnished with a suite of functionalities tailored for shipbuilding, FORAN caters to a broad spectrum of marine professionals. Conceptual designers leverage the system to craft the ship's primary structures and layouts, engineers refine the design post-contract, and shipyard personnel oversee the vessel's construction and validation processes. The consolidation of pivotal data into a unified database, outfitted with features bespoke to shipbuilding, ensures that all stakeholders have access to the information they need to navigate the complex vessel design and manufacturing landscape.
Challenges in Data Management and Exchange
Optimizing Data Storage: FORAN's Strategy for a Lean Yet Robust Database
The art of balancing a comprehensive dataset with storage efficiency is epitomized in FORAN's database management. While it encapsulates an extensive range of attributes essential for simulation, production, inventory control, and material specifications, it maintains a minimalist approach. Instead of extensive B-Rep forms, FORAN opts for an efficient storage method, encapsulating the essence of shapes like cylinders with simple parameters such as starting points, radii, lengths, and orientations.
Seamless Integration Amid Complexity: FORAN's Synchronization with PLM Systems
Facing the dual challenge of assimilating external data and interfacing with downstream applications, FORAN exhibits versatility in its integration capabilities. It is adept at incorporating components from diverse third-party sources during the detailed design phase and tailoring data extraction for varied manufacturing and assembly protocols.
Such integration endeavors reached a pivotal moment in 2012 with the ambitious goal to seamlessly align with two of the market-leading PLM systems: Windchill and Teamcenter. These collaborations mark FORAN's commitment to interoperability and its pivotal role in the advancement of ship design and construction technology.
CAD Exchanger's Solutions for FORAN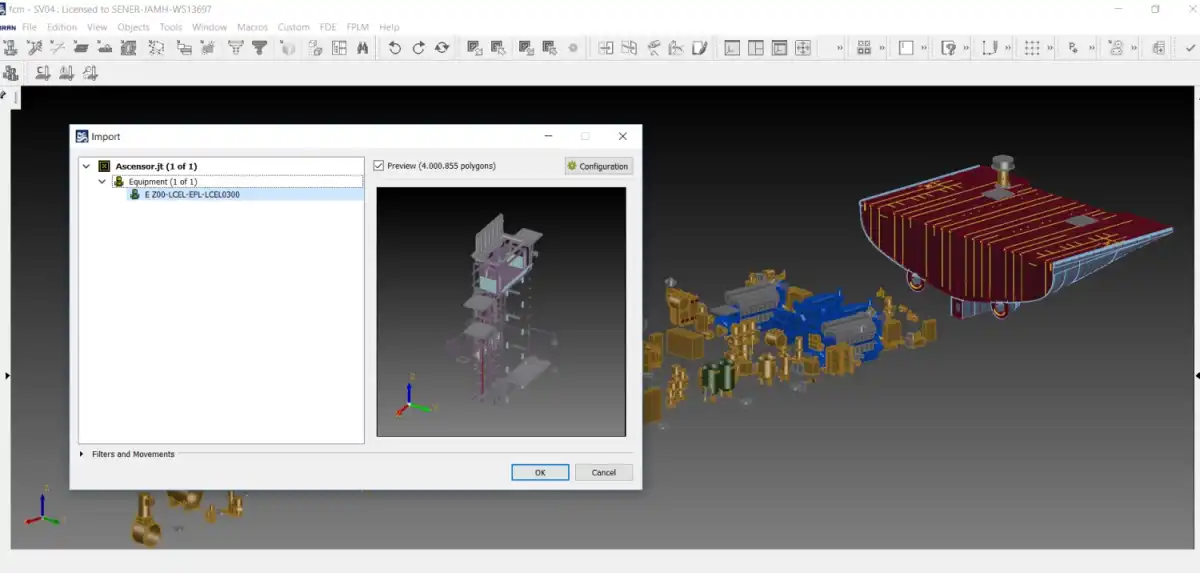 The decision-making process for expanding 3D format support within FORAN and the role of CAD Exchanger.
The preferred exchange format for connecting with PLM systems was JT, the standard one across the Siemens ecosystem. SENER Marine considered two ways to solve the problem: either to develop the solution themselves or to contract another company. The first option would have entailed the recruitment of new employees with corresponding knowledge and experience. Outsourcing the task was not that easy too, as developing the exchange algorithm from scratch would have taken a lot of time. On the other hand, CAD Exchanger already had expertise in multiple CAD formats and geometrical kernels interoperability.
CAD Exchanger had a readily available functionality that our customers required. All that was left was matching the way CAD Exchanger and FORAN manage the data. Charged with a new task, CAD Exchanger not only enabled JT support but tailored its implementation to meet the customer's specific needs, adding user-defined properties support, and further integrated STEP, IGES, DXF, and IFC formats support.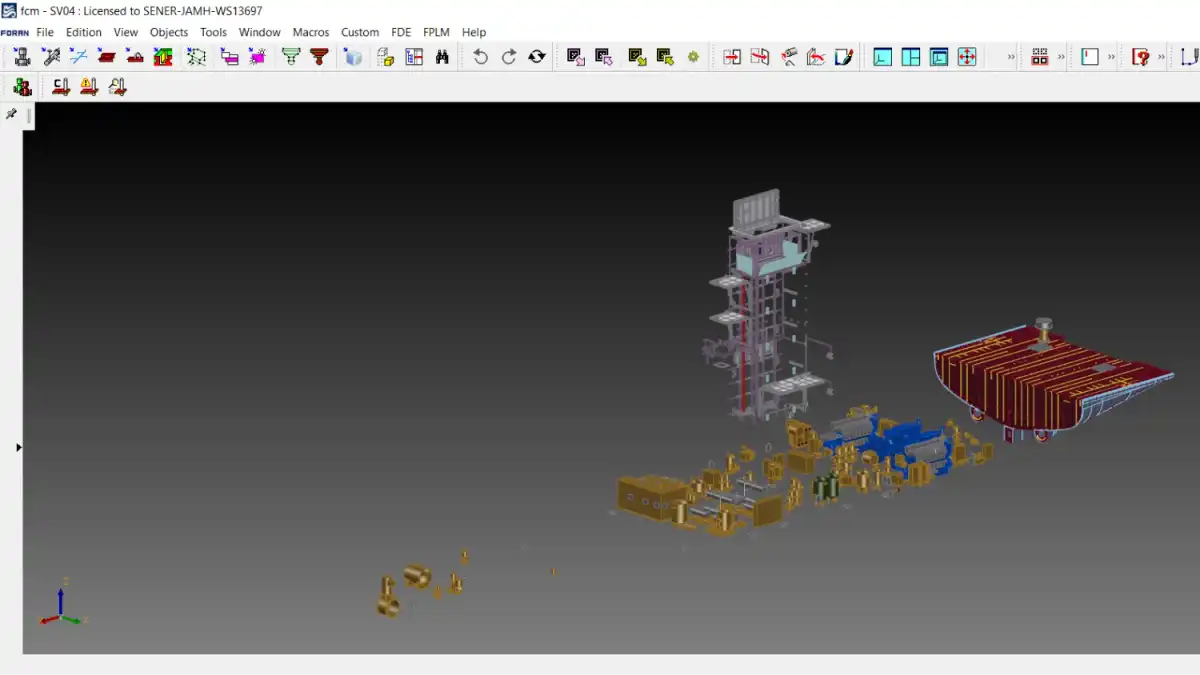 Implementing advanced mathematical algorithms
Collaboration between SENER and CAD Exchanger and further communication with customers determined that, apart from one single format support, the challenge went deeper: reading and writing other formats, improving conversion and other geometric algorithms performance, dealing with huge data volumes and tessellation.
In the following years, CAD Exchanger not only integrated numerous formats import and export but also has fully undertaken CAD data exchange matters in FORAN and developed numerous algorithms and solutions:
Faster models loading via multi-LODs : FORAN regularly deals with huge models with plenty of parts ranging from big ones like ship hulls to tiny screws. As a result, such models may load too slowly, and moving them in a 3D scene makes up just another ugly problem for engineers. They might open a model just to take a quick look at it and end up waiting for several minutes. To eliminate the problem CAD Exchanger added support of multiple LODs (Levels of Detail). Implementing this feature for formats other than JT was not as straightforward and required care to represent LODs in ways that are native to these formats. But it was ultimately worth it, as it became possible to import and export models with several polygonal representations in FORAN: from coarse to fine one. Now the parts unnecessary at this or that design stage can be loaded in lower quality and thus faster.
Utilizing parallel computations for performance boost of up to 60X : One of the problems SENER experienced was that their clients started noticing the slowness of the geometric algorithms used for weld search, plates and profiles modeling, and others. CAD Exchanger team examined and profiled the FORAN's code in order to find out the exact reasons for the algorithms going sluggish. The suggested solution included data race causes identification and the implementation of computational parallelism. The suggested solutions included the implementation of parallelism in computations and more nuanced usage of geometric operations. As often happens, introducing parallelism in complex computation code was a non-trivial process with numerous problems lurking (data races, thread contention). Ultimately, CAD Exchanger's efforts allowed to speed up aforementioned algorithms to a varying degree, with some accelerating 10X for medium-sized models and up to 60X for large ones.



Parametric body recognition : Most of the models imported into the FORAN system are represented by the B-Rep geometry, while FORAN itself operates with a set of predefined higher-level parametric geometry objects, from simple primitives (e.g., box) to more advanced (e.g., pipes, valves). The latter is more preferable as parametrics are inherently more informative and have a lower memory footprint. To improve the performance of working with the external models, CAD Exchanger played a key role in the development and integration of algorithms to automatically recognize FORAN parametric objects from the original B-Rep models.

Hidden line removal (HLR) : When importing models into FORAN, the user has an option to create 2D views of the model for drawing generation. Initially, optimal results were provided only for FORAN parametric objects. In the case of B-Rep and polygonal geometry, the projection consisted of excessive information and required additional manual processing. To simplify the user's workflow, CAD Exchanger developed a hidden line removal algorithm that identified the visible faces, edges, and triangles for a specified view and thus enabled the creation of the B-Rep and mesh model projection into a 2D plane. The next step was to boost the performance of the method. CAD Exchanger implemented computational parallelism for several stages of the algorithm. Speeding up projection generation up to 5X for B-Rep models and up to 8X for mesh models provided a better user experience for FORAN customers.

Digitalization Advancements in FORAN: The Journey Continues with CAD Exchanger's Upcoming Enhancements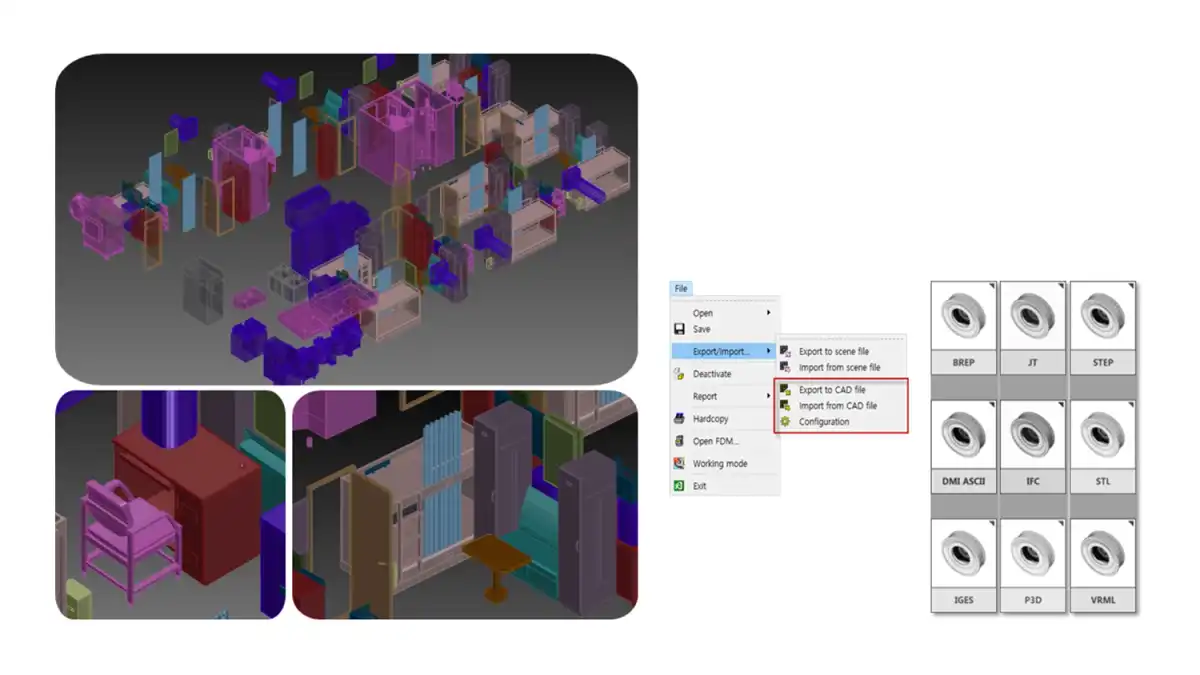 FORAN is constantly moving towards digitalization and upgrading its data model to ensure the best user experience in creating better ships at a lower cost. Therefore however many improvements have already been implemented into the system, CAD Exchanger has yet to make a lot. Among the current projects, there are two particularly noteworthy ones:
Export acceleration via multithreading: As mentioned before, FORAN stores just the minimum set of CAD data to keep the processes fast. However, when it's necessary to export the model, the recreation of its parameters from the FORAN's data model takes a lot of time. Accordingly, it was agreed to accelerate the process with multithreading, drawing on CAD Exchanger's experience of parallel computation. This technology will improve the overall efficiency of the CPU and the resulting user experience.
Export to Open Class 3D Exchange : OCX (Open Class 3D Exchange) is a new data exchange format between shipbuilding CAD software and classification societies tools. These latter approve the ship's design or send it back to the designer with annotations on necessary improvements. As the format finds acceptance both among classification societies and shipbuilders, the ability to robustly export data to OCX will become a vital feature for FORAN. Ship models exported to OCX will enable FORAN users to streamline the process of classification, integrating it with CAD, CAM, CAE, and PLM processes and avoiding the need for additional data extraction and exchange.
This deep dive into the synergy between FORAN and CAD Exchanger has revealed the intricacies of integrating advanced 3D data exchange technology into shipbuilding software. As we've seen, this alliance not only addresses current industry demands but also paves the way for future innovation. The solutions offered by CAD Exchanger have proven to be not just adequate but transformative, ensuring that FORAN remains at the vanguard of maritime engineering in an ever-evolving digital landscape.